"A testing 7 mile road race through the beautiful East Leicestershire countryside"
Congratulations to everyone who took part in the 2017 Hungarton 7.
2017 results (including your own personal certificate!) are available here
Hopefully see you all again in 2018! Check out our our Facebook page for all the latest updates.
---
The Hungarton 7 has a 30 year history, the 2017 race route passes through the villages of Cold Newton and Lowesby, taking in the hills of the surrounding parkland.
The race has mile markers, drinks stations, timing chips, and a fast efficient results service.
All Racing Numbers and timing Chips will be issued on the day from the Race HQ opposite Dixons Farm, so please arrive in good time.
Join us for a BBQ and trophy presentation at The Black Boy, Main Street, Hungarton after the race.
"The race remains at the fore front of the Leicestershire Road Running League and is widely regarded as Leicestershire's toughest Road Race."
The race has, since its inception, been a member of the Leicestershire Road Running League which has over 1000 registered members. This ensures that the race always has good support and maintains a good quality profile in running circles.
Check out Facebook page for all the latest news!
---
Race entry fees
£TBC Affiliated
£TBC Unattached
No on the night entries. No paper postal entries accepted.
Race Route
The 2017 race route can be viewed in detail by clicking on the map below, you can also preview the race route with this great You Tube video: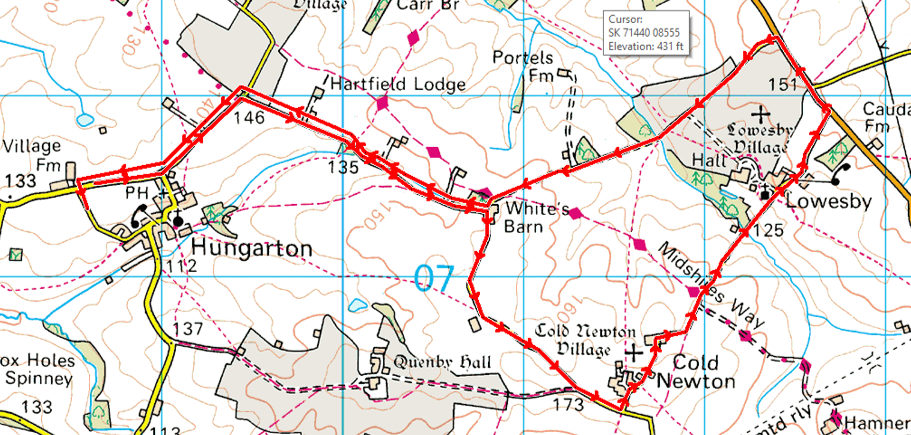 ---
Trophies awarded to:
• 1st three men, 1st three women
• 1st three veteran men over 40
• 1st three veteran women over 40
• 1st veteran man and woman over 50
• 1st veteran man and woman over 60
• 1st men's team (4 to count)
• 1st women's team (3 to count)
(Note: some prizes may not be awarded on the night)
The awards will be given out after the race at The Black Boy Pub in Hungarton, where there will be a BBQ available, as in previous years.
---
Race Records & Results
The 2017 race had 575 finishes, the full results can be found below, along with results from recent past Hungarton 7 races:
Earlier results can be found here.
The race has a long history, click here to read some memories of the race our club president.
---
Wreake Runners would like to thank the following sponsors
Fyffes
Supplier of race bananas
www.fyffes.com
Kimberley Distribution Ltd
(0116 260 2224)
Syston Freight
(0116 260 2224)
Swithland Spring Water
www.swithlandspringwater.co.uk
---
Contact Details
The Hungarton 7 is organised and run by Wreake Runners. If you are not a club runner why not come along and try us out! If you can run 30 minutes at around 10 min/mile come along on a no obligation trial to see if you like us! run@wreakerunners.co.uk
For Hungarton 7 related enquiries contact:
Mark Jelley 07968902312 or mark@kimberleydistribution.co.uk