We are the Wreake Runners! Welcome to our club. We are based at the Roundhill Academy, Thurmaston, Leicestershire, the Wreake Runners club formed over 35 years ago, we take our name from the nearby River Wreake, and we warmly welcome runners from the surrounding areas and villages, Leicester and Loughborough. The Club is an affiliated member of the Association of Running Clubs (ARC) and England Athletics (EA).
A small and friendly Club, we welcome runners of all abilities and all ages from the fastest to the not so fast. The Club meets on Tuesdays and Thursdays at 6.45 pm at The Hub, Roundhill Academy, 997 Melton Road, Thurmaston LE4 8GQ.
We have a thriving club with around 100 members, and will be only too pleased to help and encourage new runners.
Annual membership of the Club is £35 (£14 is for affiliation to EA).  However, you are very welcome to join the club at no cost, without obligation, for a trial period, just to see if it's for you. Note that if you are an absolute beginner, we do ask you to contact us first so that we can direct you to the correct 'Beginners Sessions'
Club nights
We have fun and varied club nights, led by a different run leader in each session. We run routes in the Syston / Thurmaston area following a pre-planned route of generally 5 – 10 miles, splitting into groups of varying standards. Lady runners are usually accompanied by at least one male runner in the interests of safety. New club runners are chaperoned by a club member so that they do not run on their own. In the lighter months we choose routes along the many scenic footpaths and trails in the Syston area, including Watermead Country Park, Bradgate Park, and open countryside (to see maps of some of the routes click here.)
There are regular sessions of supervised structured training. These consist of speedwork and hills, with track sessions twice per month. These sessions cater for all abilities. Occasionally we meet at a different venue (usually a pub!) and run a route preplanned by one of our members and then meet afterwards for a well-deserved drink/eats. Other popular activities include the club Handicap Run in the autumn, and a regular timed 5km run on our running track (see here for pictures & recent times).
To find out what's planned for the next club night see the EVENTS page.
The Club's Facebook forum, email list, and notice board keeps members informed about local and regional running events, club activities and news, and has contributions from members and general articles of running interest.
This week our club members on Strava have logged:

Club Standards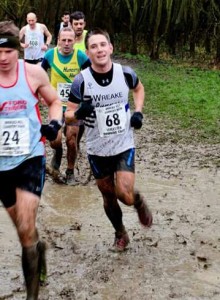 The Leicestershire Vision 2020 Network have developed a set of club standards, covering distances from 5K to Marathon, designed to give runners of any ability targets to aim for. You need 5 distances to achieve an award, and if you're really keen you can go for a 'distinction': 9 distances. This is a fun scheme that provides an incentive for runners to train a little harder in the hope of achieving the 'next level'. The club use these standards and give out awards annually.
Full details here: FEMALE COUNTY STANDARDS – MALE COUNTY STANDARDS
Claim form here: Claim form
Races and Racing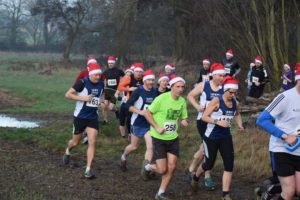 The Club competes actively in the Leicestershire Road Running League(LRRL), which involves winter and summer organised road races at different venues across the county from 5 miles to half marathon distances. For those who enjoy cross-country,we compete during the winter in the Today's Runner Derby Cross-Country league, with races over 10km on trails around Leicestershire and Derbyshire. Teams are usually entered every year for the Leicestershire, Midlands and National Cross-Country championships. Club members also take part in a whole host of other local, regional and national events, details of which are provided by our Race Secretary.
The Club organises the Hungarton 7 (a summer road race, part of the LRRL). Part of the race calendar includes the Club's popular annual Handicap race, and the Club Timed Run.
If you have any questions you would like to ask first simply contact us on run@wreakerunners.co.uk
Or click here to JOIN US!
Social Wreakies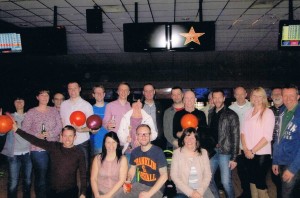 It's not all about running!  There are also regular social events throughout the year, past events include the Wreake Runners quiz night, Summer Party, bowling, Pie night, Tigers rugby, Christmas lights run, and Presentation evening & party. Sometimes there are organised weekends away: in the past we've ran the Wales Trail marathon, Paris Half Marathon, Guernsey Marathon, and Snowdon Marathon. This summer many of us are heading to Poland for a night half marathon! Become a member of the club now to join us!
The committee is as follows:
| | | |
| --- | --- | --- |
| Position | Name | Email |
| Chairman | Gareth Tomlinson |      run@wreakerunners.co.uk |
| President | Dave Palmer |     dpalmer192@btinternet.com |
| Club Captains | Anne Timlock and Luke Smith |     run@wreakerunners.co.uk |
| Club Secretary | Phill Wilson |     pt.wilson64@gmail.com |
| Treasurer | Andrew Roberts |     andrew.d.roberts@btinternet.com |
| Membership | Lyndsey Wilson |  lyndsey@wreakerunners.co.uk |
| Social Secretary |  Helen York |  helenyork178@btinternet.com |
|  Cross Country Captain |  Mark Jelley | mark@kimberleydistribution.co.uk |
| | | |
We are now based at Roundhill Academy Thurmaston. Training nights are at 6:45pm Tuesday and Thursday and  go ahead come rain or shine.