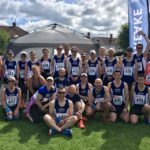 Nicola & Rachel joined Wreake Runners earlier this year, and both have now ran their first race! Read their thoughts on it here..
Nicola
"After not running for a few years since Uni I decided to do the Brighton Half Marathon in February this year. I trained for a few months on my own and once I completed the run I knew it would be hard to continue running on my own and it would be a whole lot more fun to run with other people and meet some new people too! I had a google of local running clubs and realised there was one down the road from me.
I've been a Wreake Runner now for a few months and I'll never look back! The club runs are always varied and fun and there's always a group that I can run with to suit my pace. My first race was the Swithland 6 race today. The first 3 miles were hard, I find hills tough and had to walk a few times, but after the downhill after mile 3 I felt more confident in my running and was ready to run to the finish line! It was great to have all the support of the Wreake team and Dave on his bike cycling with me, supporting me for one mile! My aim is to do a 10k in under one hour and I'm sure the club nights will help me reach that goal!!"
Rachel
"As a new starter to running, (never done it before) i joined the "Learn to Run" beginners group in January of this year which was followed by an additional 5 weeks training to reach 10K. I have since joined the main Wreake Runners group and have to firstly say, what a wonderful bunch of people you are, very welcoming and supportive.
Apart from running the 5K 'Livingstone Relay' a few weeks ago with the club, on Sunday, I ran the Swithland 6, which was my first solo race with the club. I was told by a few people that this race was on an easy flat course which was the reason i entered it as i am not very good with hills, only to find out there were many hills!!!
Although it was very hot and hard going, I still managed to run them all only stopping a couple of times for a few seconds walk to get my breath back. I must say, when I reached the mile one sign, I really thought I had ran 3!!! it just seemed a very long mile but obviously I kept going and started to feel a lot more comfortable at mile 3, thank goodness also to the mile three water station which was very much needed. It was a lovely route though, very scenic and welcomed the only two downhill sections. I would like to thank Dave Palmer who came to find me on his bike to make sure I was ok and to Karen Holt, who met and ran with me for the last mile with lots of encouragement and support up the final finishing hill also supported by the rest of the club runners as I ran the finishing straight. All in all, I really enjoyed it and had a great morning".
Join Wreake Runners today to join in the fun!