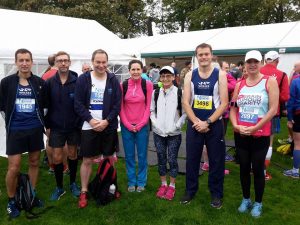 Well done to all the Wreake Runners who took part in this year's Leicester Marathon & Half Marathon!
Gavin Speed completed the full marathon, and 12 Wreakies took on the half:
Bruno Nikoloff was first back in 1:23:22, followed by Andy Carmichael 1:27:23, Howard Bradfield 1:28:16, Nathan Smith 1:34:34, Gary Munsey 1:36:51, Brian Stevens 1:41:55, Liz Collingham 1:44:10, Paul Wright 2:03:42, Jane Collingham 2:10:42, Richard Palmer 2:21:57, Callum Akiens 2:31:31, Rachel Waters 2:42:15 (her first ever 1/2 well done!).